Every day we work safely and reliably, operate our networks in an environmentally compliant way and communicate with our end customers.
The way we work has an impact on the community, the territory, the environment and the economy.
This is why it is a priority for us to improve how we work every day to provide you with a safe, reliable and responsible service. In a word, excellent.
Every day we distribute natural gas to the meters of your homes and businesses. We do this in complete safety, using an efficient and digitised network, while fully respecting the environment. In fact, we manage energy and natural resources efficiently, taking great care to reduce our environmental impact by adopting a responsible and transparent approach.
This is our way of accompanying citizens and the country towards a sustainable future, in which our service and network can really evolve the ways in which we work and live.
We are proud of our work and do it excellently for our people, the community in which we operate and future generations.
Our people, who are proud to contribute every day to our energy future.
Our way of working, which is safe and sustainable.
Our goal is to improve and evolve our operational excellence, focusing on continuously improving the characteristics of our way of working:
From the design and implementation of networks, up to the end customer, we strive to ensure and improve the highest quality and safety standards of the service, both technical and commercial.
Responsibility and sustainability
The digitisation of the network allows us to understand our network and customers better in real time, increase security and reduce environmental impacts. This is how we intend to protect the territory and natural environment.
Our great ambition is to concretely implement a digital transformation and technological innovation process, which will enable us to play a key role in the energy transition. This is also confirmed in our 2023-2029 Business Plan which envisages a plan of investments of over 1.6 billion euros for the prosecution of the digital transformation of network. This will allow us to continuously ensure the excellence of our service to customers and sales companies. Find out about our sustainability goals and the actions we have taken to achieve them.
SDGs integrated into our actions
We strengthen our contribution to the achievement of specific Sustainable Development Goals (SDGs) constituting the 2030 Agenda of the United Nations. As part of our commitment to ensure a safe and sustainable working environment, we contribute to achieving the following SDGs with concrete actions.
Find out more
Digitalisation drives our projects and initiatives and supports us in innovating the network and making it increasingly sustainable. This path places the main focus on stakeholders, to whom we offer increasingly smart and intuitive communication tools to facilitate their work.
We place responsibility and sustainability centre stage
CATHODIC PROTECTION
These are the significant points of the network on which the remote monitoring system of cathodic protection parameters was used.
cathodic protection measurements
were also carried out, with a qualified operator, on non-remote controlled points.
In collaboration with the US company Picarro, in 2019 we introduced intelligent software for detecting the presence of gas (Cavity Ring-Down Spectroscopy, CRDS) on gas detection tools.
What does this mean for us?
We are the first in Italy to conduct planned searches to detect leaks, also extended to all underground and overhead connections. Picarro is an example of how digitisation serves the quality of our work and reduces our impact. In fact, it also allows us to monitor and reduce our gas emissions. In addition, this important step is accompanied by the continuous training of our technical staff. In 2021, for example, we provided 2,211 hours of training involving 450 participants.
What does this mean for our customers?
This technology allows us to detect one methane particle in one billion air particles. A great technological and innovative leap forward that benefits the entire network and service. In fact, this activity is not required by current legislation and regulations, but it is part of our ambition to ensure we provide our customers with an innovative and sustainable service.
million euros
This is the investment we have allocated for the development, maintenance and digitisation of the network, as well as for the Sardinia methanisation project.
kilometers of network
This the length of the network that we replaced with joints in lead and hemp from 2016. This intervention not only increases its safety but also significantly reduces the release of gases into the atmosphere.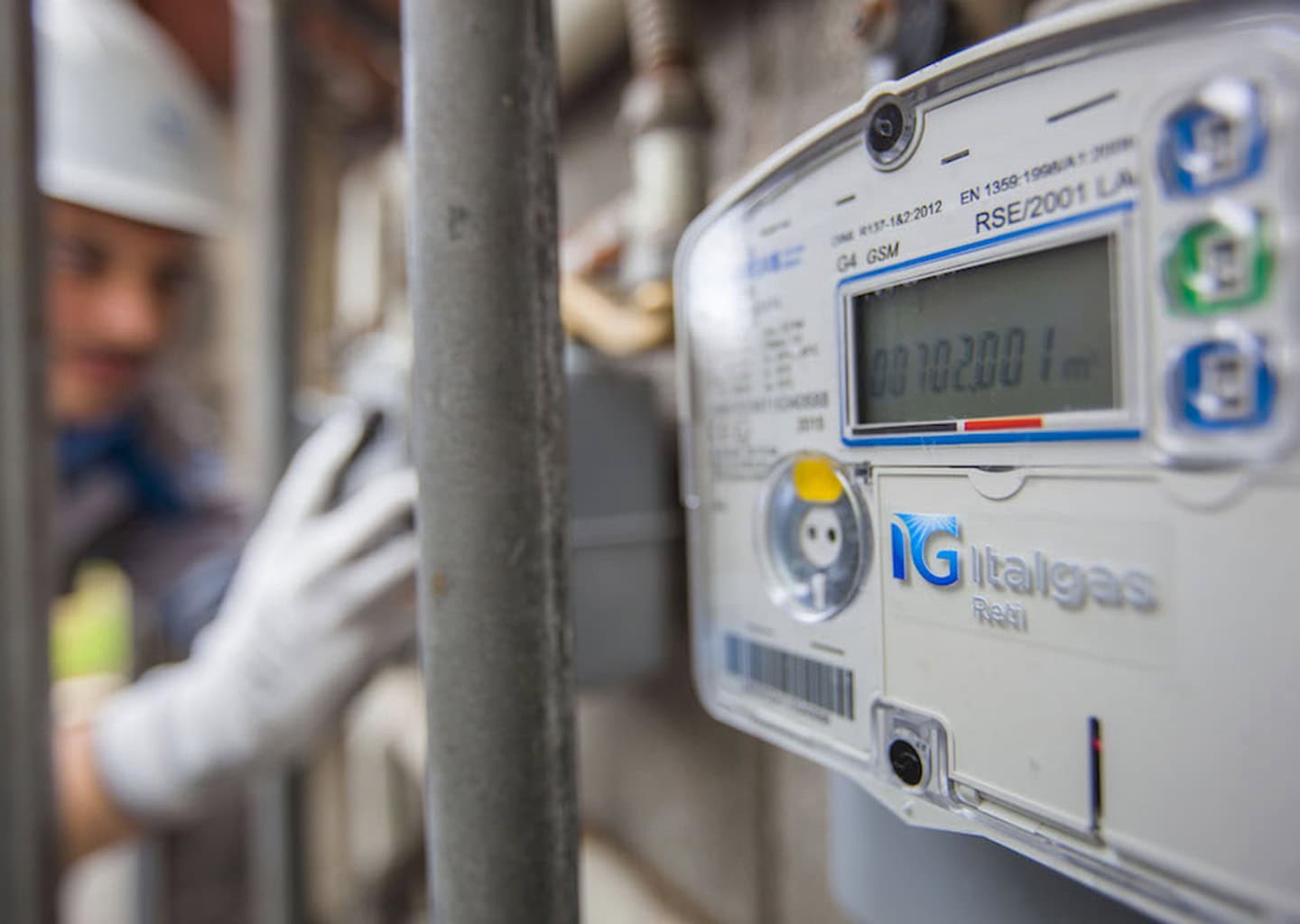 Today there are over 7.9 million smart meters installed (about 91,7% of our fleet) and in 2020 alone we installed 821,000 million, also thanks to the support of our Digital Factory
Find out more
Gas2Be: new communication with sales companies
On July 2020, we launched the Gas2Be platform, deriving from our Digital Factory. Its aim is to enhance and support the partnership with sales companies in an ever faster manner, with simple, user-friendly. Starting February 2021, thanks to the integration of the GasOnLine portal functions, the Gas2Be portal has thus become the main communication, service and support bridge for sales companies, improving and optimising their experience
Scopri come dialoghiamo con le Società di vendita
Customer portal: an increasingly accessible service
In 2020, the redesign of the end-customer portals MyItalgas, MyMedea and MyToscanaEnergia was started to further improve the user experience, ensuring processes are increasingly simple and intuitive. What's new in the new version of the portal:
Access to a support section with useful answers.

Clear and immediate user records (

edelivery point, meter serial number, etc.).

Checking the trend of their readings.

Monitoring of requested services, quotes and status of works.

Monitoring the requested services and appointments, requesting quotes for construction, alterations or removal of the supply system and much more.
Scopri tutti i servizi per te