Gas and energy transition
Natural gas is essential to accompany the energy system towards its decarbonisation, supporting the development of green gas through digitised infrastructures.

We are used to using natural gas on a daily basis. An energy source that offers considerable opportunities for the development of renewable energy.
By 2050, the energy system will have changed radically and renewable energy sources will be accessible, sustainable and widely available on the market. Natural gas will support this path until it gradually evolves into sustainable sources, relying on a widespread network capable of supplying renewable energy in the long term.
Gas supports the transition phase towards the energy future, with a solid market both in Italy and in Europe, thanks above all to a vast and advanced network.
Gas infrastructure can contribute to the ongoing energy transition and become a key player in it, thanks to its diffusion in Italy and beyond.

Up to 2040, gas demand in Italy is estimated at more than 60 bcm, with greater use of the networks due to the higher volumes of renewable gas injected.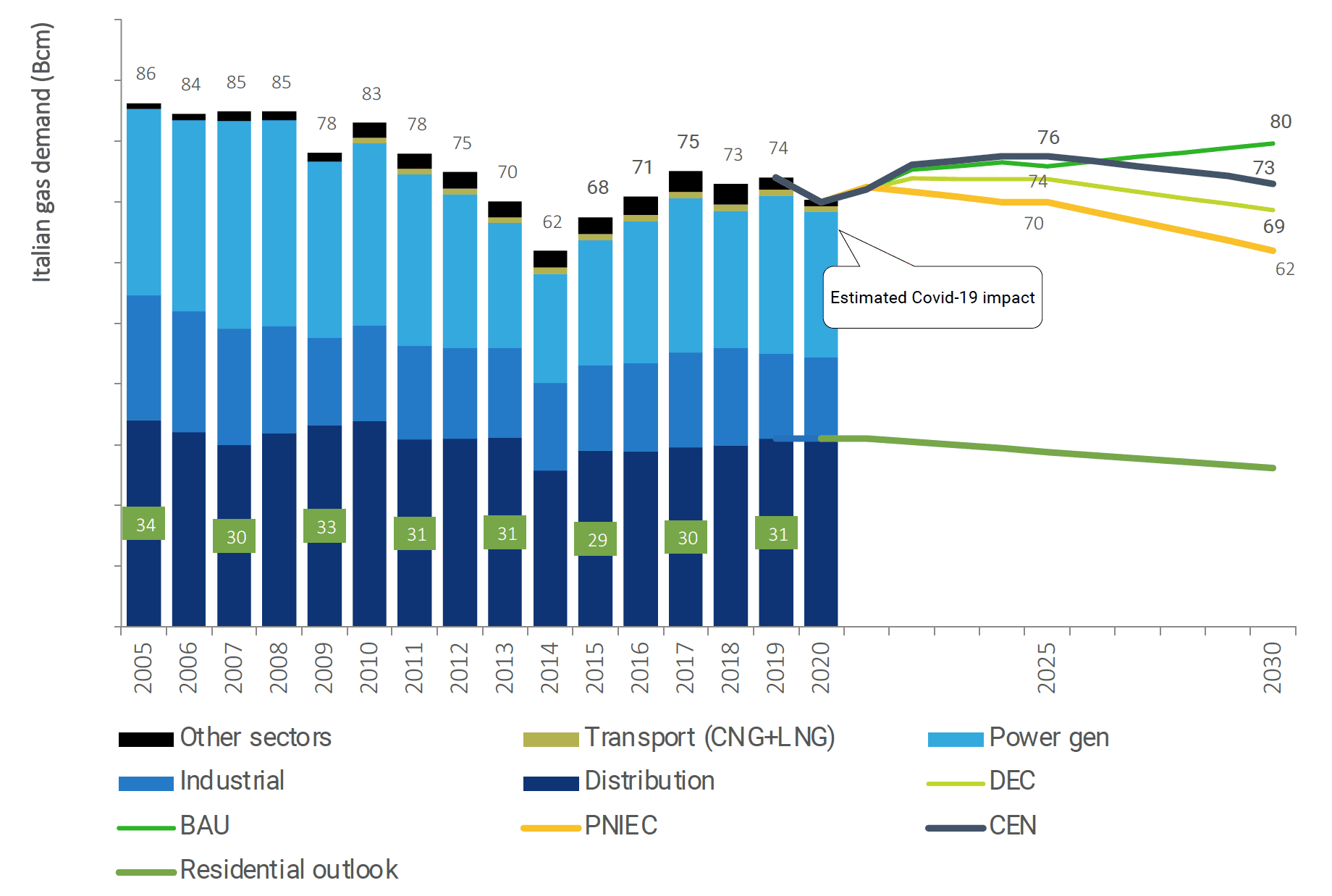 Source: Italgas processing of PNIEC 2019 and ENEA data
Gas, with its infrastructure, is flexible by nature and able to meet peak demand independently, something the electricity system is not yet able to do. In fact, the technology that can help mitigate the increasing rigidity of the electricity system is Power to Gas. It is a solution that converges the gas and electricity sectors, storing excess electricity produced from renewable sources and transporting it in the form of green hydrogen or synthetic methane through gas networks.
Gas already covers most of Europe's energy demand, and in the perspective of the energy transition to 2050 it will account for 20% of energy consumption, ensuring flexibility in the system in the face of highly variable demand depending on the season. 

In the long term, the gas system will evolve thanks to the gradual introduction of renewable sources and the reduction of fossil fuels such as coal and nuclear, from which part of the electricity consumed today comes.
This trend confirms the essential role of gas infrastructures, which are already equipped with an articulated transport, distribution and storage network, and ready to facilitate the use of renewable sources. With this potential and appropriate investments, the network is preparing to accommodate two main alternative gases: biomethane and green hydrogen.
There is no transition without digitisation.
Digital transformation is a key enabler of the energy transition process, so gas distribution networks, appropriately transformed into digital smart grids, are strategic to ensure the realisation of the energy transition.
The combination of innovation, digitisation and widespread infrastructure is enabling important innovations in the energy system:
It guarantees the supply of energy for domestic, tertiary and industrial use and supports the gradual replacement of highly polluting fossil fuels such as coal, especially in power generation.
Electricity will eventually be generated using renewable gases, starting with biomethane, which is widely available and also generates a circular economy through the recovery of waste and agricultural waste, and continuing with green hydrogen.
.
With Power to Gas technology which is a further element of convergence of gas and electricity, we enable the storage and transport of surplus energy from renewable sources, which can be converted into renewable gases such as green hydrogen and synthetic methane.

For more than 180 years we have been looking to the future
We have been initiating projects that play a key role in the energy transition and the development of green gases, such as green hydrogen.

Find out more
The European Green Deal: towards climate neutrality by 2050
The European Commission unveiled in late 2019 the European Green Deal, the new strategy for sustainable growth with the aim of making Europe the first climate neutral continent by 2050, bringing all net greenhouse gas emissions to zero
The Green Deal stimulates and supports all sectors of our economy to make the right transition to a low-carbon economy.
The European scenario and the main objectives:
Scenario
75% of the EU's greenhouse gas emissions come from energy production and use.
Objective
Decarbonising the energy sector.
Scenario
40% f energy consumption in Europe is in buildings
Objective
Renovating buildings, helping people reduce their energy bills and energy use. 
Scenario
12%  of recycled materials are used by European industry.
Objective
Supporting industry to innovate and become world leaders in the green economy.
Scenario
25% of EU emissions are from transport.
Objective
Introducing cleaner, cheaper and healthier forms of private and public transport.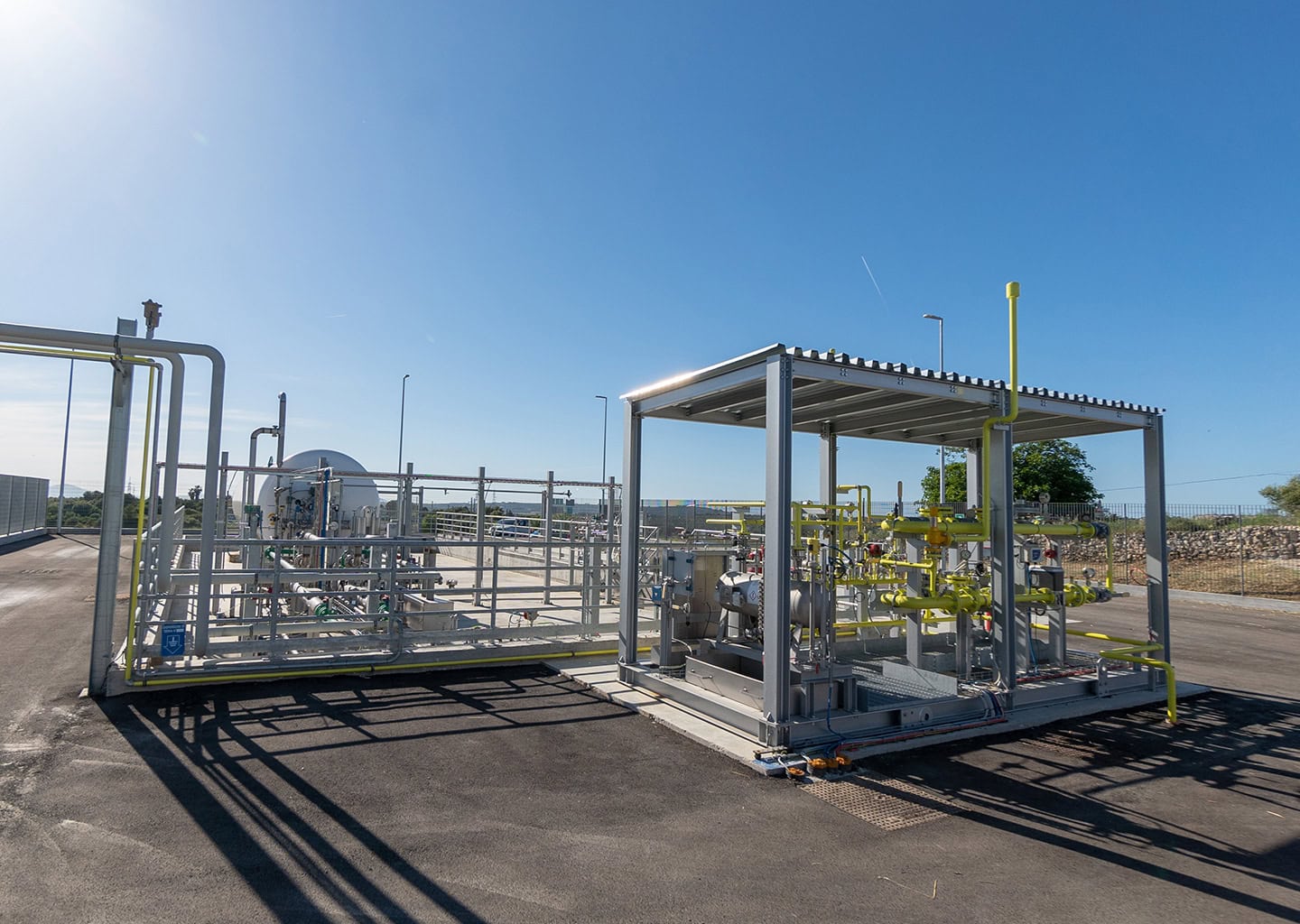 Through our network we are able to support the transition to a low-carbon economy: our ambitious investment plan includes actions in line with European targets, generating value in industrial and domestic uses.
Find out more